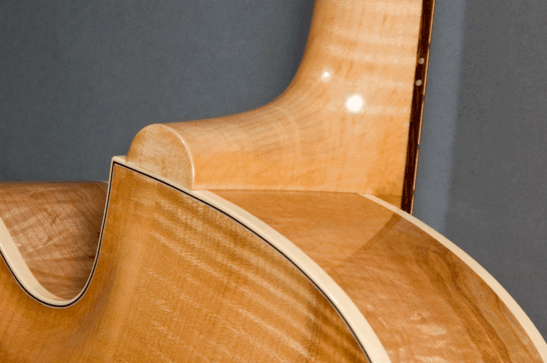 The tapered neck heel is designed to lighten the instrument and have an unobstructed feel as the player reaches for high notes in the cutaway. A traditional tapered dovetail joint and neck extension are chalk fit by hand with no shims, for solid transmission of vibration throughout the entire instrument.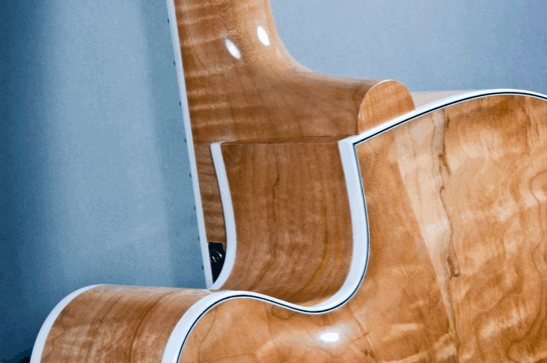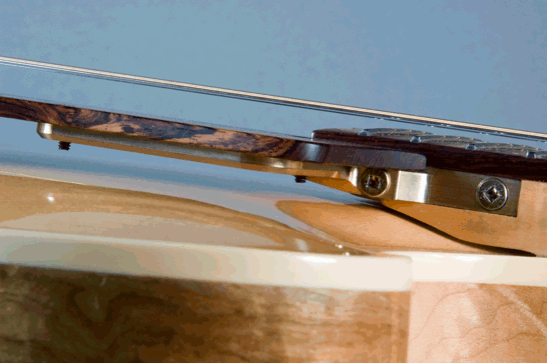 The neck extension floats free from the top beyond the neck block, so that vibration of the upper area of the top is not restrained.

The peg head has no volute; it is tapered thicker as it merges into the neck, so the critical area behind the nut is strong. The neck has a first quality modern two-way adjustable truss rod. The neck shape is a gentle ellipse in cross section, not too round shouldered, and not too triangular, with a relatively small feel for its actual thickness. The thickness increase along the length of the neck follows a very slight curve, for a transparent feel as the player moves up or down. I have spent several months experimenting with neck width and thickness, to find what I believe are the best dimensions for the average player. My latest necks have generated a lot of favorable comments. Of course, I can make a neck to any dimensions for a customer that knows exactly what they want, or consult with a customer to help define their needs.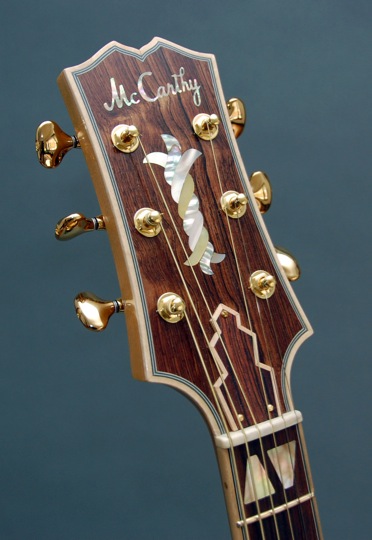 The peg head shape is proportioned to the size of the guitar (18" Skylark peg head shown here). The maker's logo, three strand peg head decoration, truss rod cover and paired isosceles trapezoid position markers are designed to be unique and modern looking, while recalling some of the flavor of a fine instrument from the classic era.

The "M" crest on the peg head is reprised at the base of the finger board.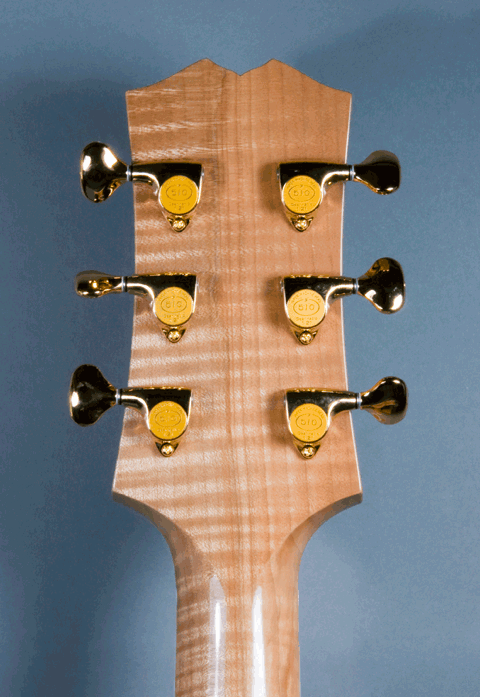 I usually prefer the natural look of the wood of the neck continuing up through the back of the peg head, so there may be no veneer there. Completely one piece neck of red heart big leaf maple on an 18" Skylark.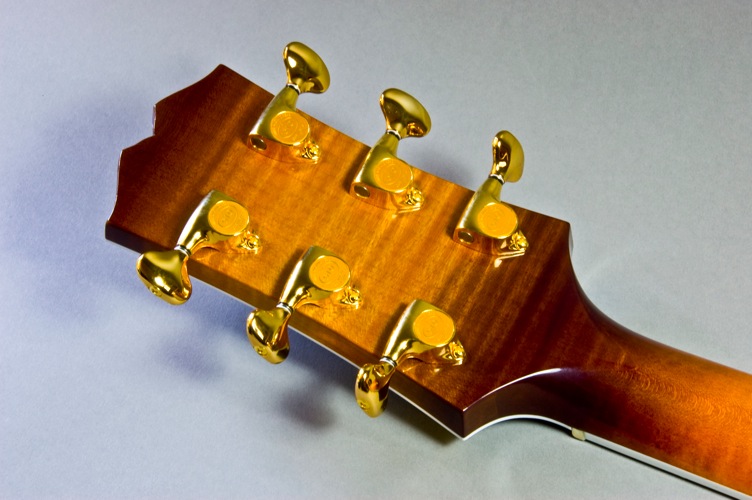 I have also made some necks with an overlay on the back of the peg head, and a clean widows peak, for a fancier look. Western big leaf maple overlay on the back of a Pannonica peg head; the widows peak is just barely visible behind the nut.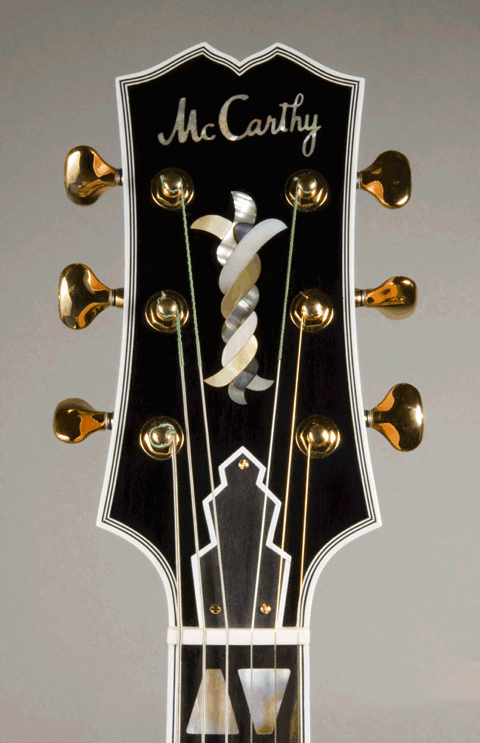 Ebony peg head overlay on an 18" Skylark.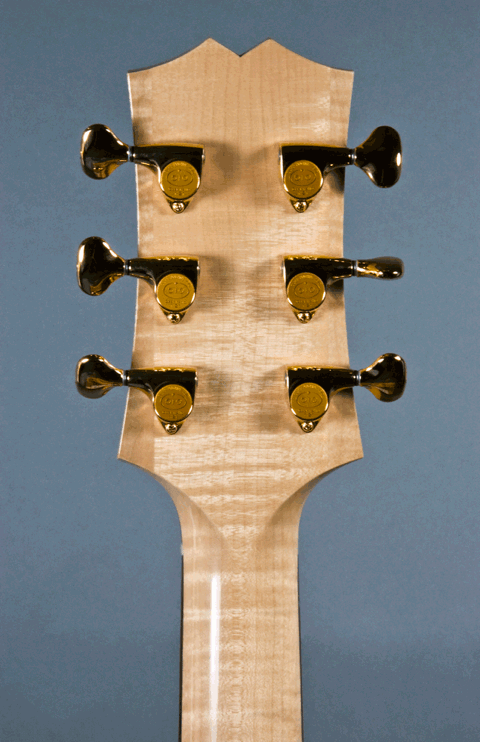 European maple neck on a 17" Skylark Spirit, with simplified "M" crest.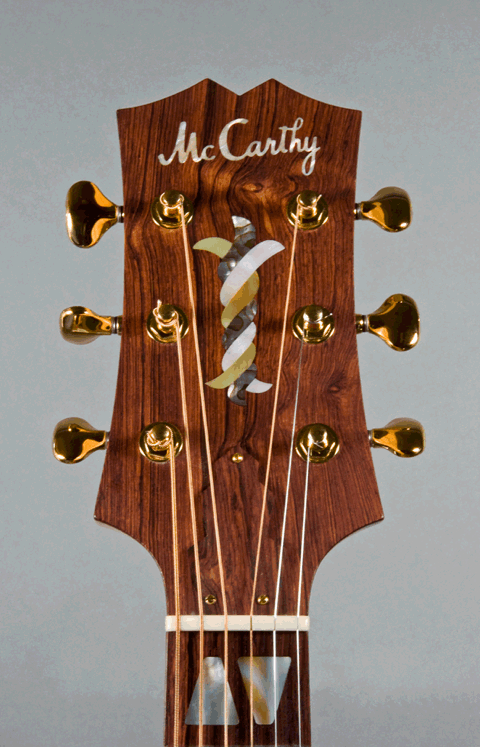 Honduran rosewood peg head overlay on a 17" Skylark Spirit. The face of the peg head is finished only with linseed oil, like the fingerboard and other rosewood fittings.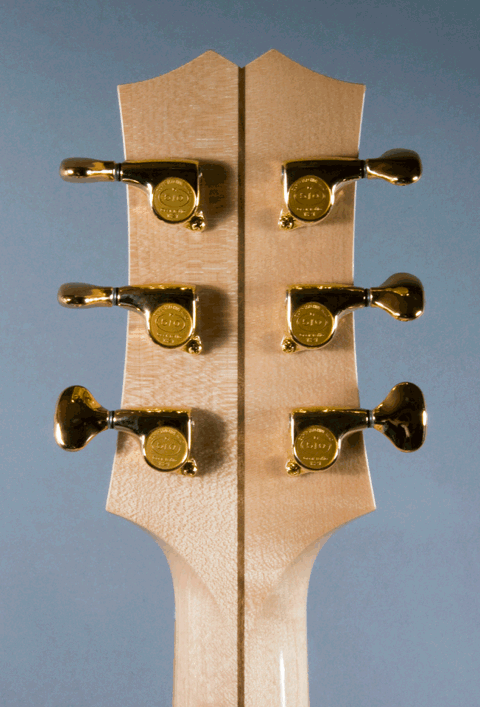 Eastern hard rock maple neck with walnut center stripe on a 16" Skylark Spirit.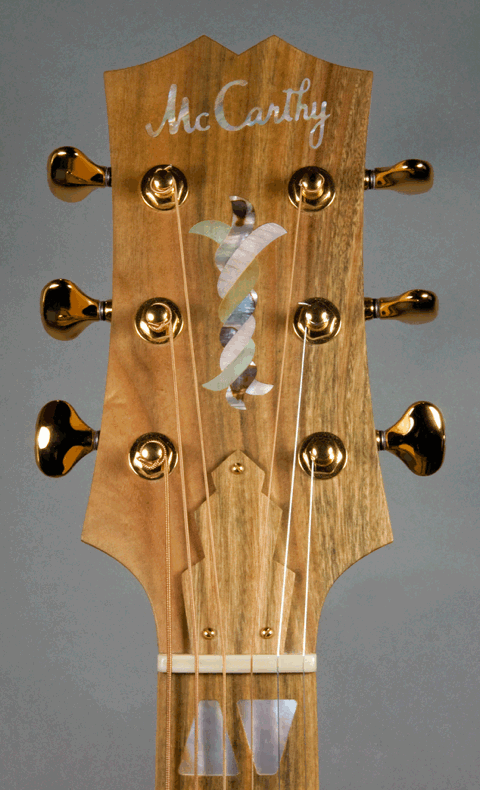 Vera wood peg head overlay and finger board on a 16" Skylark Spirit.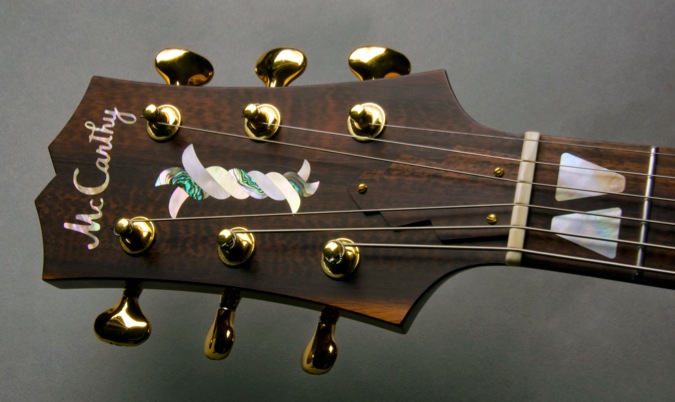 Snake wood peg head overlay and finger board.